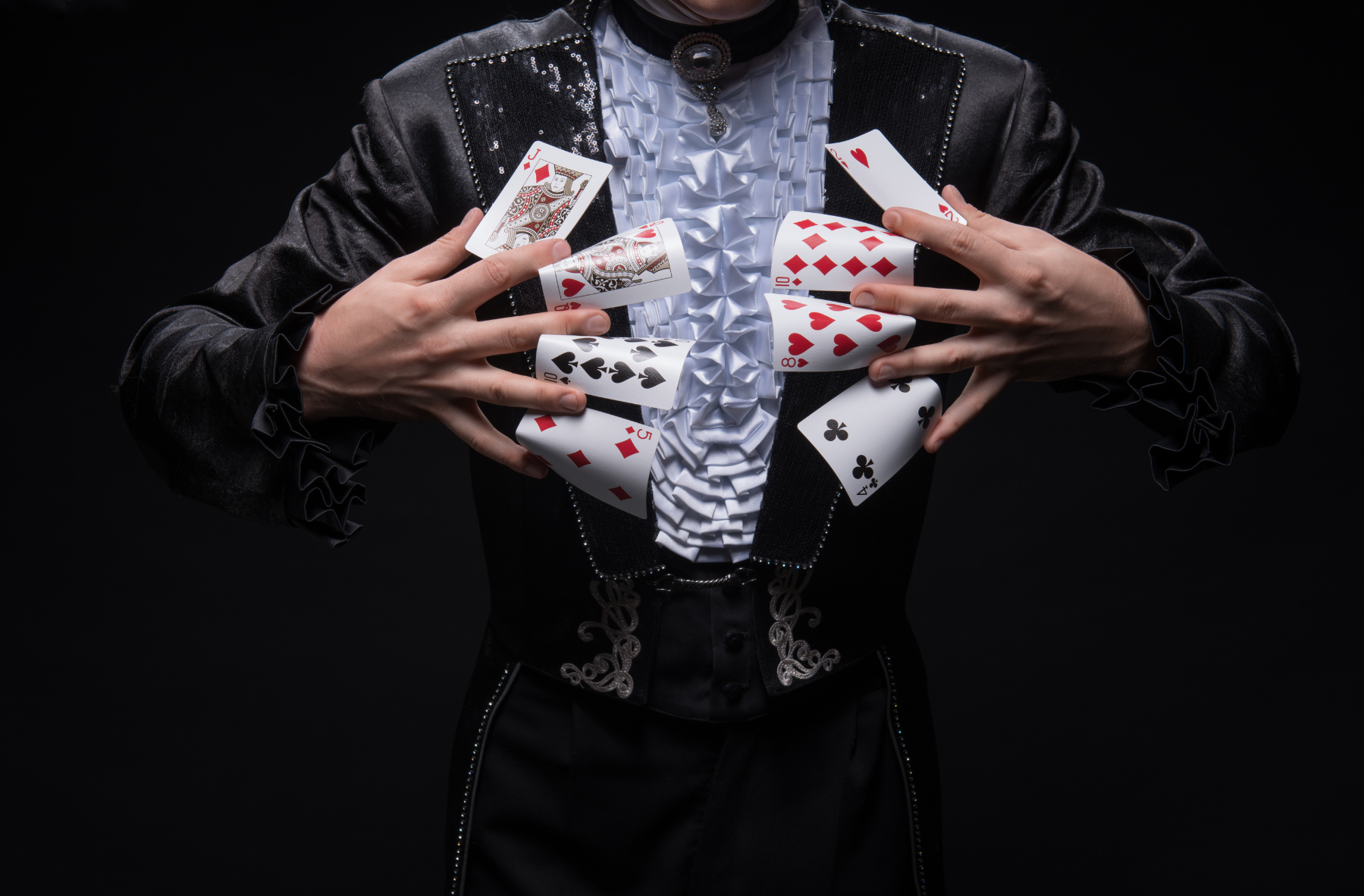 Chicago's History of Magic
Published on August 24, 2023
At the 1893 World's Columbian Exposition in Chicago, a 19-year-old named Ehrich Weisz performed magic tricks and stunts by himself and with his younger brother along the Midway Plaisance. Born in Budapest and raised in Appleton, Wisc., Weisz was already going by the name of Harry Houdini.
By Dave Lifton (@daveeatschicago)
The fair didn't make Houdini a star—it would be another five years before he got national attention by escaping from a South Loop jail cell while handcuffed and wearing leg irons. By 1899, he had signed to perform on the Orpheum vaudeville circuit, where he gave up the sleight-of-hand tricks and focused on his death-defying escapes.
As Houdini was making his name around the country and the globe, another aspiring magician from Chicago, Harry Boughton, was just getting started in an act as "Frederik the Great." But by the time of World War I, anti-German sentiment prompted a name change, and Harry Boughton became Harry Blackstone Sr., reportedly taking his new moniker from the famed hotel on S. Michigan Ave.
In his lengthy career, Blackstone raised the game considerably. He invented such tricks as the "Floating Lightbulb," "Dancing Handkerchief," and the "Vanishing Birdcage," and added even greater intrigue to the "Saw a Lady in Half" trick by performing it with an electric buzzsaw. And he did it all while rarely speaking to the audience to add even more mystery.
The height of Blackstone's fame coincided with a magic boom in Chicago. As with so much in the city's history, Chicago took something that already existed—like pizza and hot dogs—and put its own spin on it. A more intimate style—one better suited to nightclubs than theaters—called "close-up magic"—began to thrive. Magicians could go from table-to-table and perform card and coin tricks, linking rings, cups and balls, and more. And being no more than a few feet from the audience made the tricks seem all the more astounding. Close-up wizards like Celeste Evans, Jack Kodell, and Bert Allerton packed chic spaces like the Pump Room at the Ambassador East and the Empire Room at the Palmer House. The Loop even had five magic shops, one of which—Magic, Inc.—is still in business, although it is now found on W. Lawrence Ave. in Ravenswood.
But close-up magic wasn't only found in downtown hotspots. Magic bars could be found throughout the North Side, the most famous of which was Schulien's, a Lincoln Park tavern that could trace its history all the way back to 1881. Owner Matt Schulien took up magic and began performing for patrons, adding his own sense of humor to the mix. Schulien's eventually moved to North Center, and continued featuring magic acts every night until it closed in 1999.
After Blackstone, the most famous magician from Chicago was undoubtedly Marshall Brodien, who had a 20-year run as Wizzo the Wizard on Bozo's Circus, which aired on WGN. Brodien's status led to a successful stint as a pitchman for TV Magic Cards and his own beginners' magic sets.
These days, Chicago's legacy of magic can still be found in a few places. Located in the Loop at 25 E. Washington St., the Museum of Illusions has become a favorite spot for visitors, school trips, and private events since opening in November 2020. It features more than 80 interactive rooms, installations, and images that blur the line between reality and perception. But unlike magicians, who won't reveal their secrets, the museum provides explanations as to how your eyes are deceiving you. The museum has been closed since mid-August 2023 as it expands its space by 30 percent. It plans to reopen in late Fall 2023 with more than 20 new exhibits.
And the close-up style perfected in Chicago is still on display. Since 2010, Dennis Watkins, a third-generation magician, has been performing the Magic Parlour in a ballroom that seats less than 50 people in the Palmer House. The show, which features his acclaimed blend of magic and mind-reading, runs Fridays through Sundays. In Andersonville, the Chicago Magic Lounge draws its inspiration from Prohibition-era Chicago and Schulien's. It is found behind a fake laundromat and features performers nightly in its three rooms. 
The Adventure starts when you say it does.
All eATLAS Adventures are designed and built by experienced eATLAS Whoa!Guides. They're always on. Always entertaining. And always ready to go.
Check out our Adventures!