Saving Drafts
Published on May 12, 2023
When creating a new Adventure, if you want to quickly move through the process and don't have all of your description information or media items ready to upload you can now use the "Save As Draft" feature.
On the "Basic Info" screen all that is required is to complete the following information:
Hosted By
Adventure Category and Theme
Promo Title
Info Title
Address
Then you can jump to the bottom of the page and select "Save As Draft" after which you can click "Continue" and proceed to the "Edit Adventure" screens.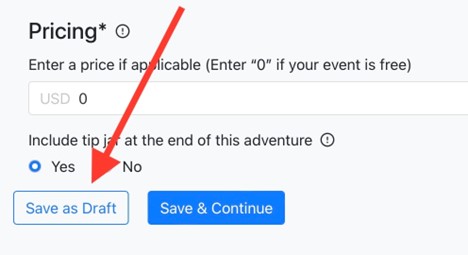 Once you are on the "Edit Adventure" screen you can do the same thing.
Select Adventure type
Enter a title
Fill in an address
Then, you can jump to the bottom of the page and select "Save As Draft" and move on to the next Adventure Item.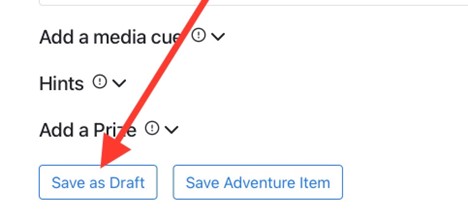 This may be useful to you if, for example, you want to design the route of the tour but want to upload your media items and descriptions later. Your Adventure Stops will look like this in draft mode: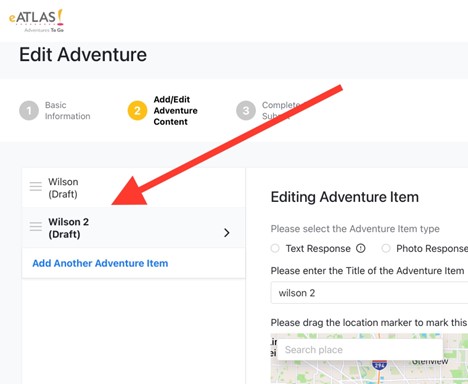 Note with Draft Mode that before you are ready to submit your Adventure for publication, you will need to come back to complete any missing information, upload your media items and then select the applicable button:
"Save and Continue" (from the Basic Info screen) or "Save Adventure Item" (from the Add/Edit Adventure Content screen) in order to move your Adventure out of draft mode. This gives you the ability to, in the end, click on "Complete and Submit" in order to get your Adventure published. If you do not complete everything before you submit it, you'll receive an error message telling you what missing information you need to complete.
The Adventure starts when you say it does.
All eATLAS Adventures are designed and built by experienced eATLAS Whoa!Guides. They're always on. Always entertaining. And always ready to go.
Check out our Adventures!