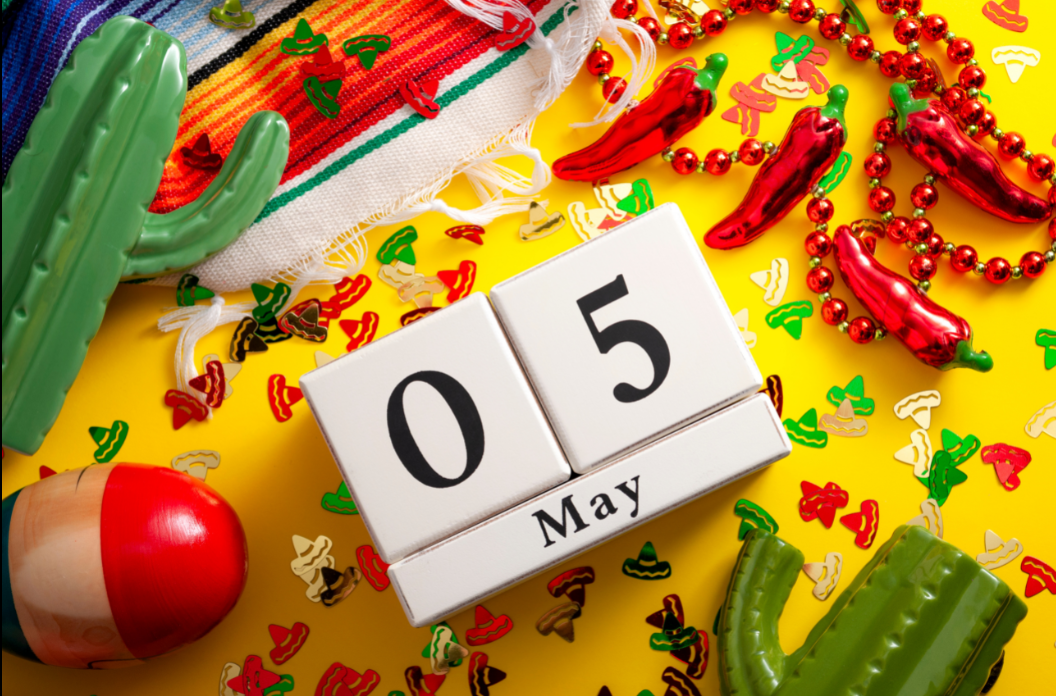 Cinco de Mayo; a more intense Taco Tuesday
Published on May 5, 2022
With Cinco de Mayo falling on a Thursday in 2022, why not have a second Taco Tuesday and celebrate at one of the many places in the Chicago area that have festivities planned?
Following Mexico's victory over the French on May 5 in the 1862 Battle of Puebla, President Benito Juarez declared that its anniversary would be a national holiday. Over the years, Cinco de Mayo has taken on less significance in Mexico. However, much like St. Patrick's Day, Cinco de Mayo has become an opportunity for Americans to celebrate Mexican culture.
All of the options below have specials, though some require reservations. Click the links for full details.
Cinco Mexican Kitchen
Arianna Garcia didn't choose the name for her restaurant in Uptown as a reference to Cinco de Mayo. It's named Cinco Mexican Kitchen because she's one of five daughters. But she'll nonetheless be celebrating all day (1-10:0 p.m.) with $2 street tacos, $3 empanadas, $4 wines and beers, and $5 sangrias and shots.
Cinco de Mayo Celebration
The Chicago Latino Network's Cinco de Mayo Celebration will be held at Joy District in River North. For $30, guests will receive complimentary cocktails and appetizers. Music will be provided by Mariachi Tradicional Juvenil, which is comprised of 10 children between the ages of 9 and 15.
Old Town Pour House
At Old Town Pour House on Wells Street, a $20 ticket to their Cinco de Mayo happy hour gets you two drinks (each has to be under $15) and complimentary chips, salsa and queso. Food and drink specials include discounts on tacos, Corona Extra, Corona Seltzer, Tito's cocktails and Skrewball. A DJ will be spinning music and they'll also be playing Mexican Bingo for prizes.
Cantina Crawl
If you can wait a few days to celebrate in the heart of Chicago's Mexican community, Pilsen Fest is sponsoring a Cantina Crawl on May 7 between noon and 6:00 p.m. For $35 (or $45 on the day of the event), participants will hit at least 10 bars and restaurants along 18th Street and get to sample one cocktail at each place. If you want more than one, there will be specials available. The organizers are encouraging coming early and staying late to soak up the atmosphere of Pilsen.
Mac's Wood Grilled
On the other hand, Mac's Wood Grilled in Wicker Park is getting a head start on the holiday. Starting May 1 and running through Cinco De Mayo, they'll be serving $12 taco platters and $4 Coronas. The tacos come with chips, pico de gallo and salsa verde, and you have a choice of beer-battered whitefish, chicken or wood-grilled steak.
Oaken Bistro
In Lake Forest, the upscale Oaken Bistro + Bar is having a tequila tasting. A representative from 818 Tequila will be on-site to provide samples of their blanco, reposado and añejo. Tickets for the tasting cost $30. Following the tasting, they have a special menu including taco plates with Rohan duck, carnitas, Baja fish and sweet potato, as well as chicken mole.
The Promontory
Two taco vendors and cocktails courtesy of 1800 Tequila mark the "It's Giving Cinco de Mayo" at The Promontory in Hyde Park. In addition, DJs Freddy Fatz and Jukie Tha Kidd will be providing reggaeton, Afrobeat, Hip-hop, R&B and reggae. General admission tickets cost $15. Table and couch options are available for groups of four or six.
Thorn Restaurant & Lounge
For an innovative take on the margarita, consider Rosemont's Thorn Restaurant & Lounge. In addition to the classic margarita, they'll also be serving specials like, bay breeze (cranberry and pineapple juices), cucumber (agave nectar, crème de menthe and cucumber juice) and passion fruit (Ancho Reyes liqueur, ancho chili powder and passion fruit juice) margaritas. All four will be made with Piedra Azul tequila and cost $7.
For a cold beer or cocktail
In Elmwood Park, Tony D's Sports Bar has tacos, Coronas and Modelos for $2 each, $4 Patron shots and $5 margaritas. Music will be provided by a DJ. Admission is free, but the bar requests that you register at Eventbrite.
The Cinco De Mayo festivities at Tuman's Tap & Grill in Ukrainian Village include skirt steak taco dinners and burritos, $3 cans of Tecate and $5 Sun King Brewery Pachanga drafts. While there, you can purchase a t-shirt to raise money for the United Ukrainian American Relief Committee, who are providing valuable medical services, shelter and food to those affected by the invasion by Russia.
Lincoln Park's Gaslight will have classic margaritas for $6 and jumbo-ritas for $40. They will also have $5 walking tacos, which are snack-sized bags of chips (usually Fritos or Doritos) filled with taco ingredients. You can reserve a table here.
Lastly, if you'd prefer to throw a Cinco de Mayo fiesta at home, be sure to check out one of Chicago's many Mexican markets for authentic ingredients. You can also pick up a piñata and plenty of snacks and candy at one of the four Dulcelandia locations.
The Adventure starts when you say it does.
All eATLAS Adventures are designed and built by experienced eATLAS Whoa!Guides. They're always on. Always entertaining. And always ready to go.
Check out our Adventures!